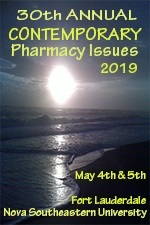 The 29th Annual Contemporary Pharmacy Issues Conference covers programs that relate to what's happening now in our profession. All programs are ACPE approved.

Cancellation Policy:
- Refund of Registration fee, less $10.00 service charge, will be provided for written cancellations made at least 1 week before the program begins.
- No refunds will be granted after the date of the program. NSU has the right to limit the number of participants attending a program.
Date(s) and Time(s):
Day 1, Saturday, May 5, 2018- 8:00a - 6:00p
Day 2, Sunday, May 6, 2018- 7:00a - 5:00p
Location:
NSU College of Pharmacy - Main Campus
Late Registration Date: Thursday, May 3, 2018