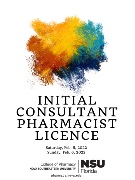 NSU College of Pharmacy March 2018 Initial Consultant Pharmacist Program
Date(s): Saturday, March 10, 2018 and Sunday, March 11, 2018

The 12-hour live course is designed to prepare the new practitioner academically and to offer real world experiences from experts in the art of becoming a professional pharmacy consultant. The primary focus of the course will be on professional and administrative responsibilities, skills, and policy and procedures development.

The coursework will be presented by Florida licensed consultant pharmacists who have extensive experience in the areas of; ALF, Surgical Center, Behavioral Health, LTC, ICF-MR, and Acute Care Institutional settings, as well as, preceptorship. Faculty will utilize lecturers, panel discussions, and one-on-one talk centers to share knowledge and experiences. Successful candidates will pass a post test (70% or greater is passing) given at the end of the program on Sunday, March 11th, 2018.



Cancellation Policy:
- Refund of Registration fee, less $10.00 service charge, will be provided for written cancellations made at least 1 week before the program begins.
- No refunds will be granted after the date of the program. NSU has the right to limit the number of participants attending a program.