The ISS Interactive Audience Response System is a portable instantaneous feedback and information gathering system that may be used anywhere in the United States. Our system/services may be used on location at your meeting or event on a per-day basis.

The ISS Audience Response Systems can transform a group of virtually any size up into a fully interactive gathering. Participants — whether in a conference, focus group or public forums — enter their responses into hand-held keypads that resemble a TV remote control unit. The software collects the data, tabulates it, and instantly displays the group's response. The entire process takes less than two seconds.
FEATURES

The handsets are custom-designed wireless units, each with an on-board microprocessor. Participants privately register their views and opinions in three ways: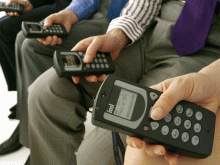 By responding to questions using the handset's keypad for Yes, No and Multiple Choice Questions.

By indicating strength of agreement / disagreement using a scale.

By rank - making one selection from a given choice of responses.

An immediate cross-tabulation function allows data to be broken out into any number of different subgroups. Each and every bit of information entered can be shown against any other bit with the touch of a button—such as how men answered a particular question, or how people of a specified income group or educational level answered.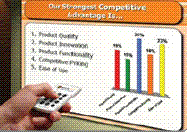 Bar graphs indicate either raw numbers or percentages on the screen, graphically displaying the peaks and valleys of the responses.
After a session, several reports are available:

Graphic printouts of all questions asked, even impromptu ones


An ASCII file to be used with your statistical software for further analysis.

Graphs are available in formats for inclusion in
Powerpoint or Adobe presentations, also can be
uploaded to websites for digital use.

Innovative Solutions' Audience Response System (ARS)
network is a fast, economical technology that heightens and enhances
interactive meetings, training, communications and market research.

PRIVACY
Participants' responses are confidential and anonymous, thereby encouraging frankness.


PORTABILITY & REAL TIME SYSTEM
System is lightweight and compact. Data, including cross-tabulations are available instantly.

SPONTANEOUS QUESTIONS
A questionnaire is entered into the system in advance of a session, but spontaneous questions may be inserted at any point.


SCALE QUESTIONS
Vertical bar chart shows average disbursements of responses.

SIMULTANEOUS CROSS-TABULATIONS
Unlimited number of subgroups available on video screen for immediate analysis.




USES STANDARD VIDEO EQUIPMENT


BROADCAST QUALITY GRAPHICS
NTSC output, full color.


EXPORT OF DATA
ASCII data files export data to vitually any data software.

STANDARD SERVICES
Premeeting
-Custom Meeting/session design
-Questionnaire development
-Questionnaire printout and review with client

Onsite
-Speaker coaching
-Rehearsals
-Questionnaire refinement
-Impromptu questions added

Postmeeting
-Printout by overall responses and crosstabs

How can you use the ARS?

MEETINGS / CONVENTIONS
-Involvement/entertainment
-Conflict resolution
-Session evaluations
-Agenda development
-Interactive meetings

TRADESHOWS AND EXPOS
-Customer Survey Games
-Keynote Presentations
-Workshops


EDUCATION / TRAINING
-Management/sales training
-Continuing education
-Academic classes


DIVERSITY TRAINING
-Human Resource/Diversity Education
-Global Diversity Programs
-Change Management
-Custom Interactive Conference Games


MARKET / ADVERTISING RESEARCH
-New product introductions
-Package/Copy testing
-Attitude and opinion surveys

PUBLIC AFFAIRS / SPECIAL EVENTS
-Electronic Town Meetings
-Debate evaluations
-Public opinion polling
-Public forums


LAW
-Jury simulation/selection
-Pre-trial testing